Get your students enthused about science
I'm a Scientist, Get me out of Here! is an online event where your students meet and interact with real scientists. It's an X Factor-style competition between the scientists, where your students are the judges.
Students submit questions which the scientists will try to answer by the next day. Students then have live online Facebook-style chats with the scientists, where they ask questions, learn more about the scientists, and let scientists know their opinions. It takes place online over a two week period.
Download and print the June 2013 poster to put up around school, for fellow teachers.
What you need to know
Students interact with real scientists online and learn about How Science Works. It engages students who aren't usually interested in science because it's real and they get a say. Students can Ask, Chat and Vote!
The event is very flexible. For your students to get the most out of the event we recommend spending at least 2-3 lessons.
Most students who take part are KS3 (Year 8-9) but we provide differentiated resources for Year 7 – post 16 students.
The event itself lasts for 2 weeks, but the site will be online for two weeks beforehand so that you can do the background work.
We normally run 2 main events a year; in March and June. But register now and we'll let you know about any other events we run throughout the year.
I'm a Scientist is designed to help teachers deliver the How Science Works (HSW) curriculum and bring real science to life for your students.
Only students with our registration cards can log in. We only send these out once a teacher has registered. All online contented is strictly moderated to protect students' identities and information.
If you have any questions, then please email us on admin@imascientist.org.uk or call 01225 326892.
Teaching Resources
These sections have all the teaching materials that we've developed for the event I'm a Scientist, Get me out of Here! They are designed to bring How Science Works (HSW) to life and develop students' debating and discussion skills.
We believe that information should be free, especially in education, so this part of the site is accessible to everyone. All teachers (and anyone else) are free to use anything we've created on the site. This material has been created by Gallomanor (unless otherwise stated) and we have NOT copyrighted it. All material is licensed under a (CC) Creative Commons attribution license.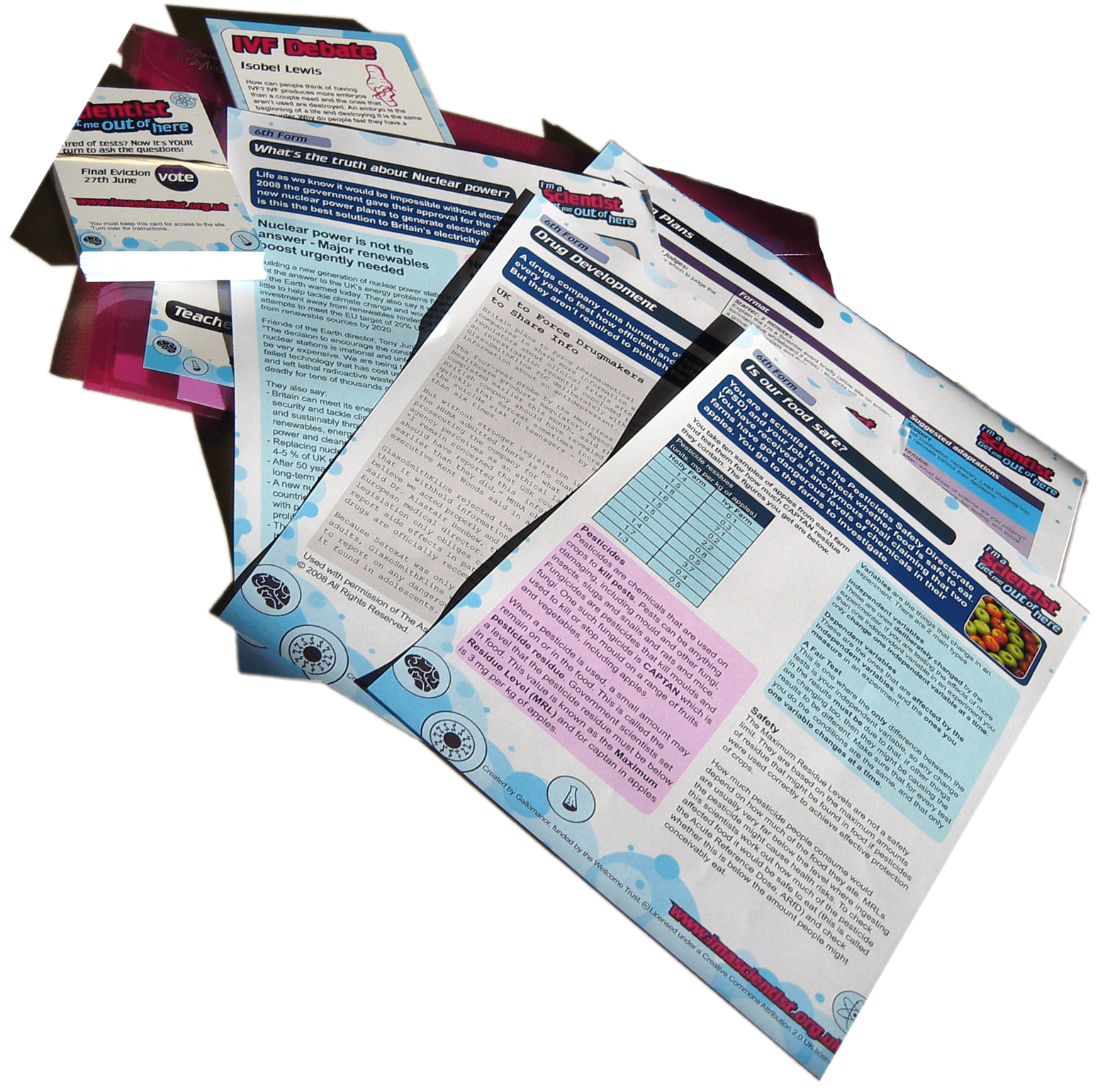 Classroom eviction poster
copyright and produced by gallomanor communications ltd 2013