Welcome to I'm a Scientist Get me out of here!
Students talk to scientists, LIVE!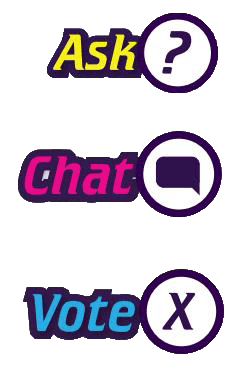 Our next event will be taking place from Monday 17th – Friday 28th June 2013! Teachers and scientists, sign up now to take part!
'I'm a Scientist, Get me out of Here!' is a free online event where school students get to meet and interact with scientists. It's a free X Factor-style competition between scientists, where the students are the judges.
Students challenge the scientists over intense, fast-paced online live CHATs. They then ASK the scientists all the questions they want to, and VOTE for their favourite scientist to win a prize of £500 to communicate their work with the public.
Teachers if you'd like your class to take part in a live chat, visit Live Chat Bookings!
Pick a Zone…
The zones from the most recent event;

Themed zones
General zones
Privacy and Cookies
On 26 May 2012, the rules about cookies on websites changed.
This site uses cookies to make the site work better, and some of the cookies we use are essential for parts of the site to operate.
You may delete and block all cookies from this site, but this will mean that certain parts of the site will not work.
To find out more about cookies on this website, see our privacy policy.
The Next Event:
Monday 17th - Friday 28th June 2013!
Login or Register
or just go directly to a Zone using the links to the left.
March 2013 Winners
copyright and produced by gallomanor communications ltd 2013